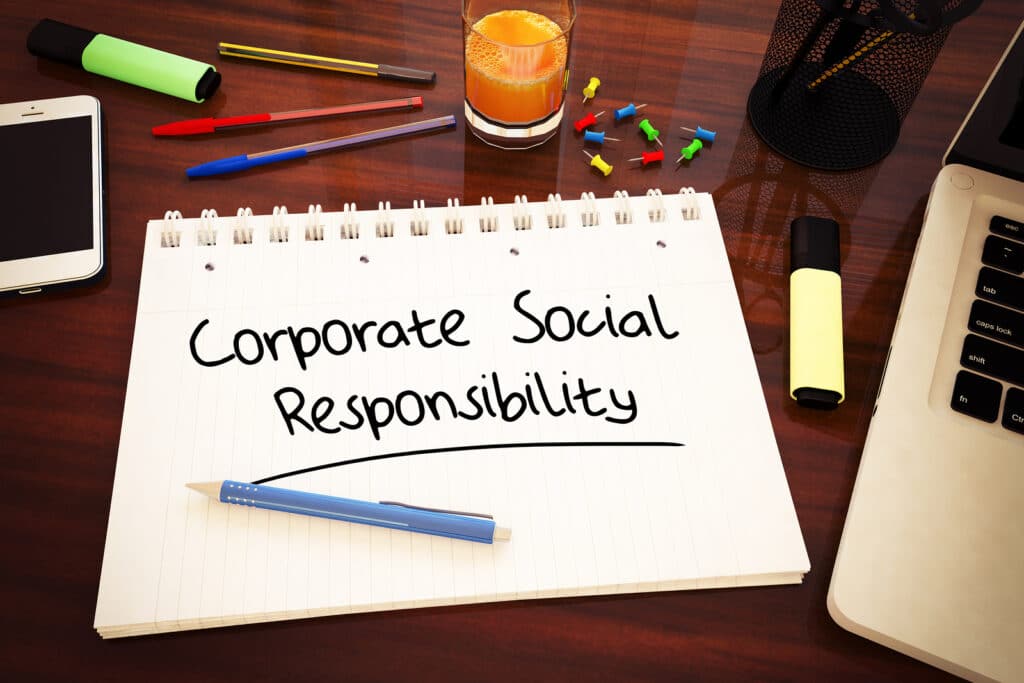 Corporate Social Responsibility (CSR) definition: "A company's sense of responsibility towards the community and environment (both ecological and social) in which it operates. Companies express this citizenship (1) through their waste and pollution reduction processes, (2) by contributing educational and social programs, and (3) by earning adequate returns on the employed resources." from Business Dictionary
More and more companies are taking a hard look at their bottom lines and integrating Corporate Social Responsibility programs into their businesses. As the Internet opened up many companies to the global marketplace, social issues from the local to global levels began to impact companies. Words like "ethical" and "sustainable" became highlights as customers began seeking companies that were actively practicing social responsibility and charitable giving. Employers are also finding that corporate social responsibility initiatives give them an edge when recruiting top talent. From customers to employees, people want to be associated with ethical companies that "have a heart". Corporate social responsibility has become mandatory in the business world, especially with the added pressure of public perception and the responsiveness and transparency of social media.
"Technology has brought global connectivity and enabled advocacy and awareness for social situations that were once obscure," said Alexis Magnan-Callaway, whose fashion company Pax Cult donates 10 percent of its profits to an organization of the customer's choice. "Millennials are redefining what it means to connect and give back through this technology. It's not just about having a recycling program or sustainable products. People want to feel good about what their dollar is doing." Business News Daily
Corporate Social Responsibility includes initiatives like:
Going "green"
Community involvement programs
Pro Bono work for the community
Educational grants
Promoting sustainable practices locally and environmentally
Volunteer work on corporate time
Ethical labor practices
Donating a portion of proceeds to a specific cause
Investment in fair trade and organic, sustainable products
Consumers and employees want more than companies that just write a check. They are actively seeking to do business with companies that have transparent and impactful social responsibility programs. Transparency is vital for businesses that have corporate social responsibility programs. The public wants to know what you are doing, how you are doing, and they want to see it. Utilization of corporate websites and social media channels are popular ways that companies can share their community involvement, global responsibility, and activities.
Google is one example of a transparent, global corporate social responsibility mindset. Their tagline tells the world where they stand: "Don't be evil." Employees feel like they are working for good and Google backs up the slogan with large, company-wide programs like Google Green. They share their carbon footprint (neutral since 2007) and break down their commitments and investments for everyone to see.
While many companies now practice some form of social responsibility, some are making it a core of their operations. Ben and Jerry's, for instance, uses only fair trade ingredients and has developed a dairy farm sustainability program in its home state of Vermont. Starbucks has created its C.A.F.E. Practices guidelines, which are designed to ensure the company sources sustainably grown and processed coffee by evaluating the economic, social and environmental aspects of coffee production. Tom's Shoes, another notable example of a company with CSR at its core, donates one pair of shoes to a child in need for every pair a customer purchases. Business News Daily
Corporate social responsibility is not just for big companies with deep pockets. Small businesses are stepping up and getting involved in their local communities with volunteer and charitable initiatives and transitioning practices to more sustainable methods.
Fire Power Seminars is committed to helping businesses implement empowering activities for employees that combine team building and corporate social responsibility. One of our newest empowerment seminars includes Building Bikes, Empowering Children which has a direct positive impact on children in the local community and leaves employees feeling great about their contribution and their company.
Are you ready to schedule a team-building event that impacts your team AND gives back to the most important members of your local community — children?
Call today to learn how you can give your team an experience they'll remember for a lifetime.
For more information, contact Karen at 954.232.4486 or Karen@FirePowerSeminars.com