Communication skills for leaders and those they lead.
How to Communicate More Effectively With Yourself and Others
If we all know how to talk, why is it so difficult to effectively communicate one-on-one and among your team members or staff?
Through our communication seminars, you'll discover the power of communication styles, language patterns, and how effective communication can have a positive, far-reaching effect in your professional and personal life.
Formats: Full-Day; Half-Day; Lunch & Learn; Virtual
Key Topics Include:
How to Maximize Verbal and Non-Verbal Communication
Perceptual Filters
Self-Awareness and Awareness of Others
Cultural Differences
Rapport
Language Patterns
In Fire Power Seminars communication seminars, you will:
Learn the basic components of communication and how they positively and negatively affect your interactions with others.
Identify your sensory communication style and the styles of team members.
Discover the impact of verbal and non-verbal communication.
Enhance rapport through verbal and non-verbal cues.
Recognize language patterns and maximize your communication effectiveness.
Reframe destructive phrases to positive ones.
Become aware of perceptual filters and how experiences, culture, language, beliefs, values, interests, and assumptions impact your communication outcomes, positively and negatively.
Review the presuppositions of communication and how they apply in your daily communication with yourself and others.
Explore conflict, and learn skills & communication tips

 to address issues. 
Karen Pfeffer, co-founder of Fire Power Seminars, is a certified practitioner in the art of Neuro-Linguistic Programming (NLP), and adjunct faculty at Florida Atlantic University, where she teaches communication skills for leaders at the College of Business/ Executive Education Professional Development Programs, ranked #2 in the USA. Karen will guide you and your team through a customized communication workshop where you will experience the impact of words, tonality and physiology (do an audit of your body right now with Amy Cuddy's Ted Talk). And, you'll have an opportunity to apply what is taught by participating in our experiential communication activities that can be customized for your group. Whether it's a lunch and learn, or a one-day communication seminar, those who attend can apply what they learn immediately!
"Working with Karen Pfeffer from Fire Power Seminars was an absolute pleasure! The day of the event was a huge success. The team thoroughly enjoyed the communication engagement that we planned and provided excellent feedback all around. Karen's energy brought a sense of excitement and level of engagement that fostered an open and eager learning environment. She was very considerate of the remote participants and made it a point to include them throughout the day. The overall experience in planning our team's in-person retreat was extremely positive and would recommend her services to anyone wanting to advance their team's ability to impactfully communicate."

~ Meredith P., National Healthcare Company, Senior Director of Strategic Integrations
"Karen Pfeffer's communication skills training is outstanding! Her fun, immersive and interactive approach had our staff enjoying our time together while learning to push through self-preconceived ideas about us and each other. She brought us together like no other training has ever done, leading us through training exercises with encouragement, humor, and "high fives". She listened to our needs, worked with us on our budget, walked us through many of the pre-planning details and organized a wonderful experience for our team. I highly recommend Fire Power Seminars services for communication and team building."

~ Joanna R., SHRM-SCP, former HR Manager with The Children's Trust, Miami, FL
"Karen is so good at what she does. She connects to her audience to create meaningful change. She provided excellent team building and communication exercises and increased my awareness of communication styles. The only thing she could have improved is making the communication training last longer!"

~ Peter D., Leica Photo, Workshops Manager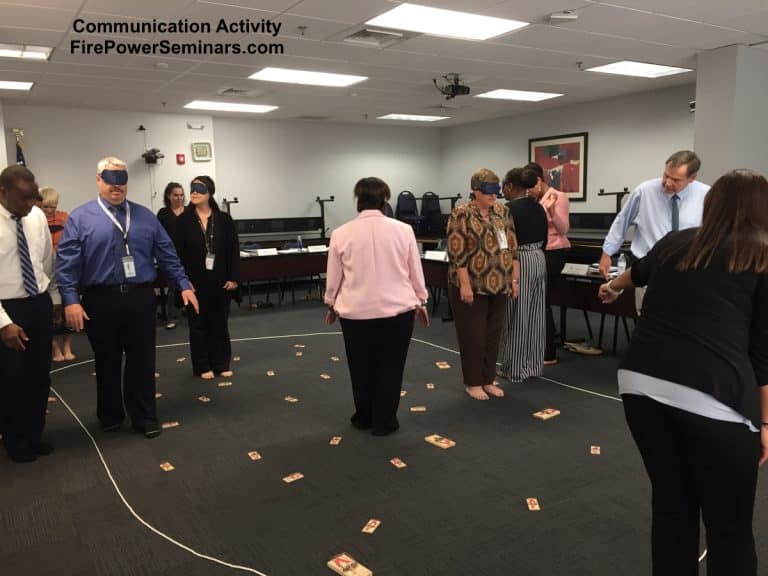 We'll help you build your team, break through barriers and have a lot of fun doing it!
We welcome you to explore Fire Power Seminars, where you'll learn about our customized programs and activities that empower, inspire and motivate people to take action.

Want your entire company to have a dynamic day-long event that'll break down silos, and bolster teamwork and trust? Or, in need of building communication among your organization's leadership? Okay, we've got it. We'll help them explore limiting beliefs and create lasting change. Seriously. We see it happen every time we facilitate one of our bold programs with a group of people. Just ask us for the proof…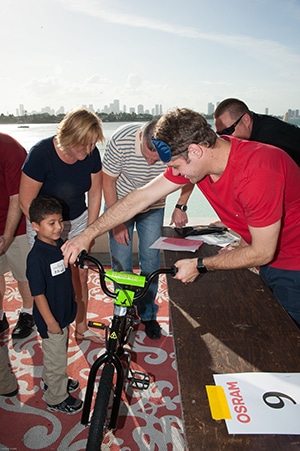 Contact Fire Power Seminars
No matter the size, from a handful of participants to hundreds, we can provide you with an experience that will be remembered for years to come. We look forward to hearing from you!