Ready for some fun, effective team building, breakthrough and empowerment experiences?
You came to the right place.
Need to improve teamwork, build trust and overturn productivity-draining silo mentality in your workplace? We've got it.
Or maybe you're looking for an unforgettable event, such as board breaking, that'll break through fears and limiting beliefs? Okay, we're on it.
Perhaps you need to really shake it up with a firewalk, aka, the ultimate challenge? Check. Got that, too.
From team building, communication and leadership training to executive and staff retreats and breakthrough coaching, Fire Power Seminars' bold approach to creating and delivering customized programs is based on our ability to understand individuals' and organizations' unique challenges.
During your customized Fire Power Seminars team building event, participants will gain insights into the impact – positive and negative – their individual values and beliefs have on behaviors and outcomes. They'll break through limiting beliefs and entrenched ways of thinking. And they'll learn to harness differences to forge powerful, lasting teams
In your Fire Power Seminars team building program, you'll learn how to:
Identify and appreciate different styles and methods of interacting.
Enhance communication skills, discovering and understanding the power of language styles and patterns, and how effective communication can have a positive, far reaching effect in your professional and personal life.
Develop skills to continue team building on an ongoing basis.
Build upon internal and external relationships.
Increase employee productivity and performance.
Identify limiting language patterns and transform them into empowering patterns to increase communication effectiveness.
Break through limiting beliefs and entrenched ways of thinking.
We'll work with you to assemble the most effective group activities for your organization. From breakthrough board breaking to Building Bikes, Empowering Children, combined with more traditional team building exercises that foster problem solving, trust and thinking outside the box, your event will reflect your objectives and create the results you need. Give us a call and we'll be sure to design exactly what you need.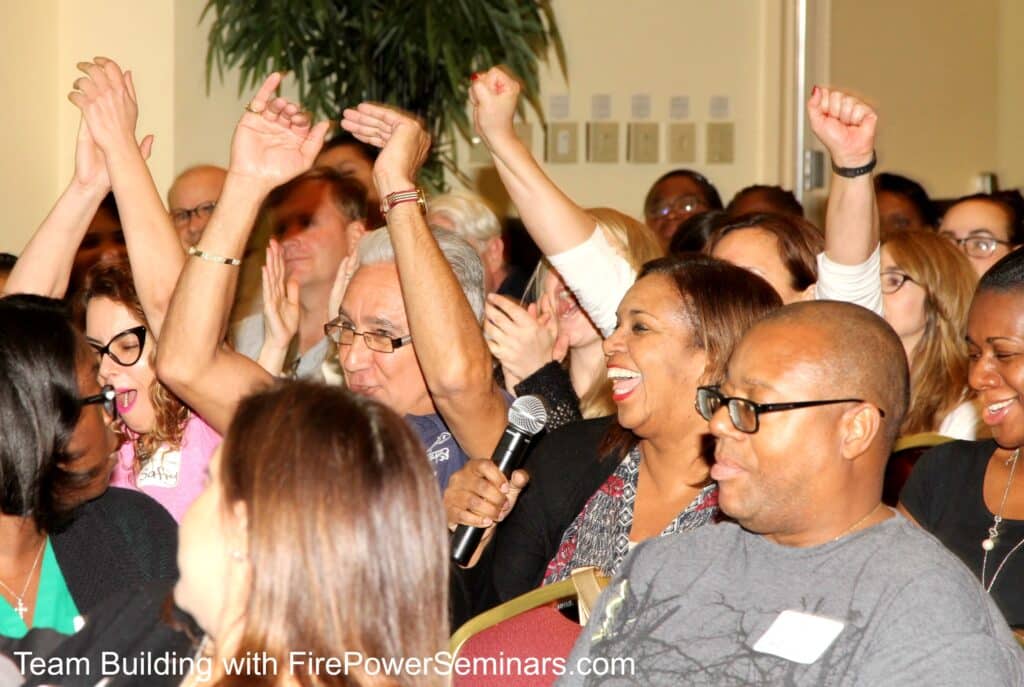 For more information, contact Karen at 954.232.4486 or Karen@FirePowerSeminars.com
Learn More:
The Most Effective Way to Bust Through "Silo Mentality"
Why Your Organization Needs Team Building
Team Building and Positive Team Culture for Student Athletes
Effective Communication Skills for Executives and Leadership
Save
Save
Save
Save
Save