There are certain feel good truths that we can all probably agree upon: laughing with friends feels good; eating ice cream on a hot day feels good; getting a promotion at work feels good. Now, think about breaking boards with your bare hand. Does it feel good? Does your mind instantly think, "no way!"? Well, that is the beginning of the "feel good" of board breaking.
The purpose of board breaking activities and events are to literally break through the "no way!" mindset, to the "I did it!" mindset, which is the one that feels good. Think about all the things that don't make you feel good, e.g., fear; pain; negative memories; lack of self-confidence; self-doubt; regret. Now, imagine crushing through those things in one focused moment of breath and action. It would feel pretty good, right?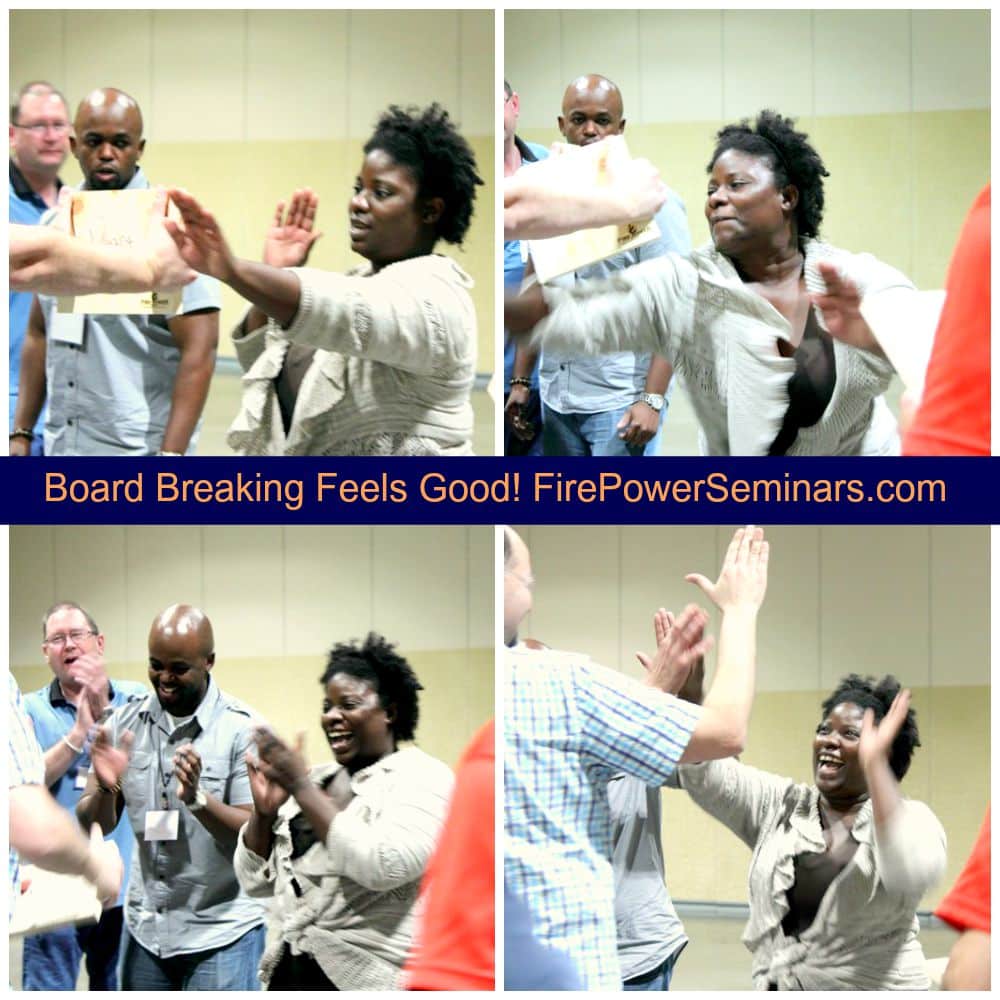 Board Breaking events begin with everyone sitting with a blank board in their lap and a pen in their hand. Participants are invited to write down all the things that they want to break through on the board. The board is the physical representation of the challenge or obstacle to overcome. The action of breaking through the board is the positive reinforcement of "breaking through" the things that don't feel good. While board breaking is a physical action, what is happening inside our bodies, emotions, and brains is a rewiring of neural functioning. A subtle shift had taken place from the "no way" to "I did it!". Add in the secondary positive reinforcement of encouragement, cheering, and peer support during the board breaking activity and we have a whole lot of feeling good going on.
The most direct way to grow inner strengths such as positive emotions, determination, and compassion is to have experiences of them in the first place. If you want to develop more gratitude, keep resting your mind on feeling thankful. If you want to feel more loved, look for and stay with experiences in which you feel included, seen, appreciated, liked, or cherished. The answer to the question of how to grow good things inside your mind is this: take in experiences of them. This will weave them into your brain, building up their neural circuits, so you can take them with you wherever you go. Dr. Rick Hanson – Hardwiring Happiness
Our brain files the feeling of elation and success at the moment of board breaking to use again and again when we come up against challenges. As Dr. Hanson says:
Turn everyday good experiences into good neural structure. Putting it more technically: You will activate mental states and then install them as neural traits. When you need them, you'll be able to draw on these neural traits, which are your inner strengths, the good growing in your mind.
The board-breaking experience provides the foundation of future good feelings and success. While we don't recommend trying it at home, we DO recommend a Fire Power Seminars Board Breaking Event with your team or group. We undertake board breaking as part of a fully experiential seminar that includes a safe, supportive environment and activities and discussion leading up to the board breaking. Take the first step in redefining the good in your brain by breaking through the fears and obstacles that are holding you back.
"When I saw the thickness of that board I thought to myself "Are you kidding? How can I break this board?" When I did I was amazed! It made me realize I can do a lot of things that I have been afraid to try before. It was empowering. Thank you Connie and Karen."~ Marie C., Delray Beach, FL
Ask questions or schedule a board-breaking event today with us!
For more information, contact Karen at 954.232.4486 or Karen@FirePowerSeminars.com