Mark your calendars for Saturday, November 21, 2015, to treat yourself to an evening of outrageous fun and accomplishment, where you will break through barriers and realize limitless possibilities!
To experience our Empowerment Fire Walk Seminar, the last firewalk scheduled for this year in South Florida, register below. Please note that seating is limited.
If you can suspend all limiting beliefs just long enough to journey barefoot across red hot embers, moving beyond fear, doubt and indecision, what else are you capable of accomplishing? It's time to find out!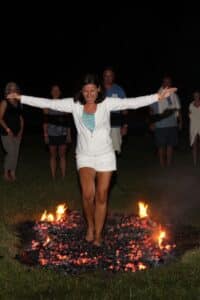 The evening culminates with a barefoot walk across 1200 degree coals. The firewalk is optional. No one is required to walk. Transformations have been experienced by merely witnessing Fire Walking. You don't have to walk, but you'll want to! 
Empowerment Firewalk Seminar (Register Below)
Saturday, November 21, 2015
5:30pm – 9:30pm (Registration 5:00pm)
Davie, FL (15 minutes West of Ft. Lauderdale; address provided at time of confirmation)