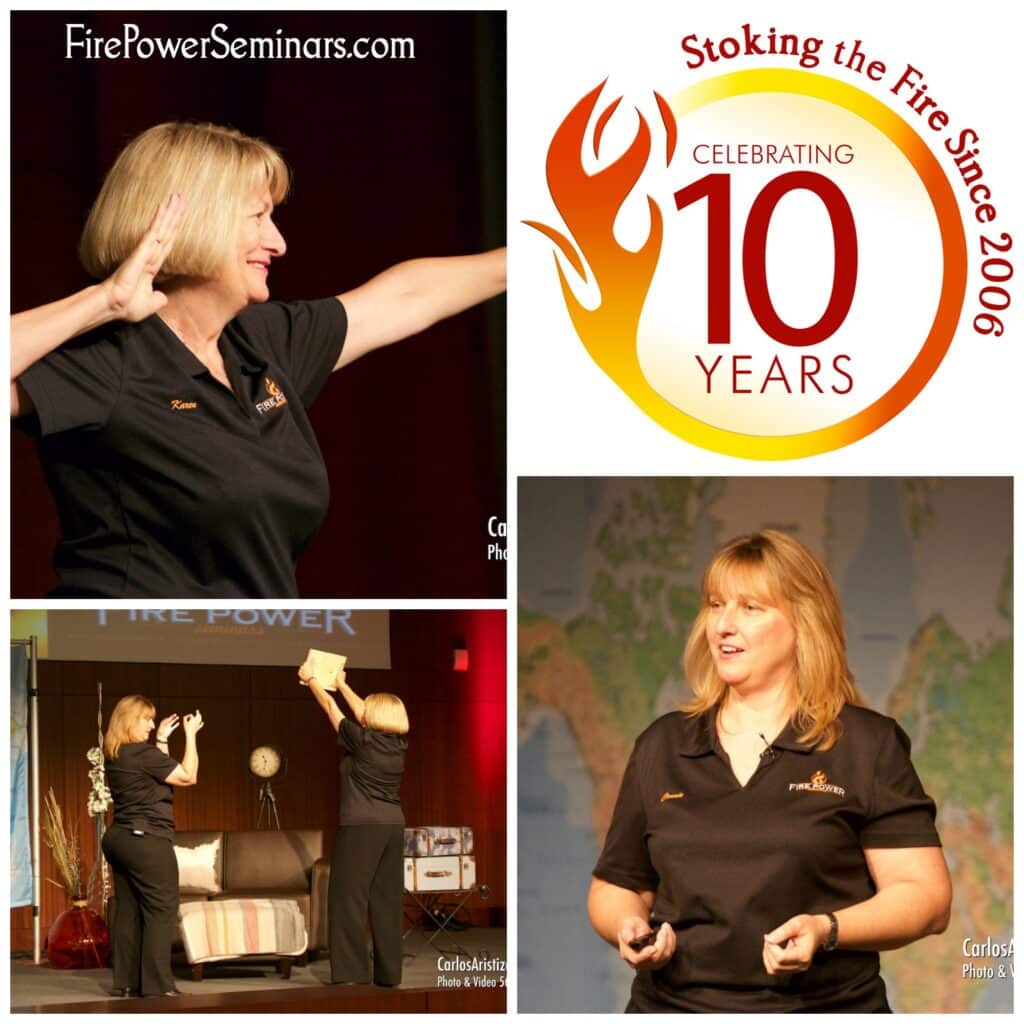 It's Our Anniversary. What We've Learned in 10 Years of Business
Building Fire Power Seminars has been a lot of hard work and many hours of tireless devotion, but we are thrilled to announce this month that we beat the odds and we're still going strong after 10 years in business! In fact, we are not only going strong, but looking to the future with excitement and lots of new additions to our empowerment seminars.

When we first opened our proverbial doors, we had no idea that our work would include such a wide range of clients, friends, and people. Today we facilitate monthly fire walks for an addiction recovery center, as well as for the greater South Florida community. It has been our honor and delight to work with schools and budding student leaders to guide them through team-building exercises. Of course, our connections with nonprofit organizations, small businesses, large businesses, and corporations with retreats, building bikes, empowering children, effective communication workshops, and empowerment seminars have been amazing, with each group breaking through personal and professional barriers.
Reflecting on our past 10 years has given us some wonderful "aha" moments and wisdom that we are so grateful to carry into each future project. A few of our favorites …
10 Things We Have Learned in 10 Years in Business
The number one reason that our business has endured and grown steadily is that it's not about us. We're here to serve the community and make other people's lives better and assist in taking them to new levels personally and professionally. We're here to give back.
1. Live and Share Your Passion, and Change Your Approach When Necessary. When we launched Fire Power Seminars 10 years ago, we began with a plan, big dreams, and unstoppable enthusiasm … until we hit our third year. It became quite clear that most companies, organizations and individuals were not comfortable with fire, which was the core of our offering at the time – firewalking. Yes, firewalking … when participants cross a bed of 1,200°F coals and experience transformational benefits that shift limiting beliefs and patterns.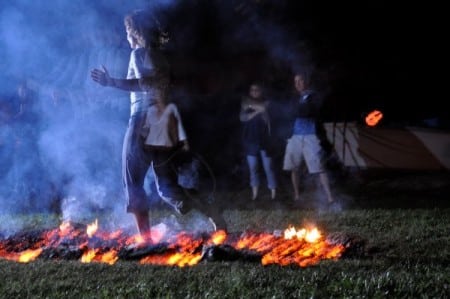 We were at a crossroads and had to make some tough decisions. Do we stay in business, or throw in the towel? We were not meeting our projections and weren't bringing in enough business to remain viable. Feeling somewhat defeated, we shared our dilemma with one of our Addiction Treatment clients who very firmly told us: "You cannot quit. People need what you do!"
It was after that wake-up call that we realized that what we did was having a positive impact, and if we were going to continue to share our passion of helping people we had to change our approach. Thus, we expanded to add team building, student/youth empowerment, retreats, "Building Bikes, Empowering Children", communication workshops, and empowerment seminars – enabling participants of all ages to break through personal and professional barriers. After all, we are here to serve and give back. It is in giving, that we receive.
2. We Are Capable of Doing More Than We Think Is Possible.
As people who teach others to firewalk, we are well aware of the power of the mind and its ability to help humans overcome and achieve. The most rewarding part of our work is watching the transformation of a person filled with fear and/or limitations as they discover the true essence of who they were meant to be, reclaiming the power that lies within. Lucky for us this happens almost every time we work.
There have been many memorable experiences throughout the years. One such experience involves a woman, a wheelchair and a service dog. About five years ago a woman named Jackie sat in her wheelchair in the front row of a firewalk; Wabi, her dutiful service dog by her side. Knowing what was planned for the evening, our first thought was that Jackie must be here to watch. Well, within the first 30 minutes Jackie would teach us a lesson that would forever change the way we see others. She was not there to watch; she was there to DO!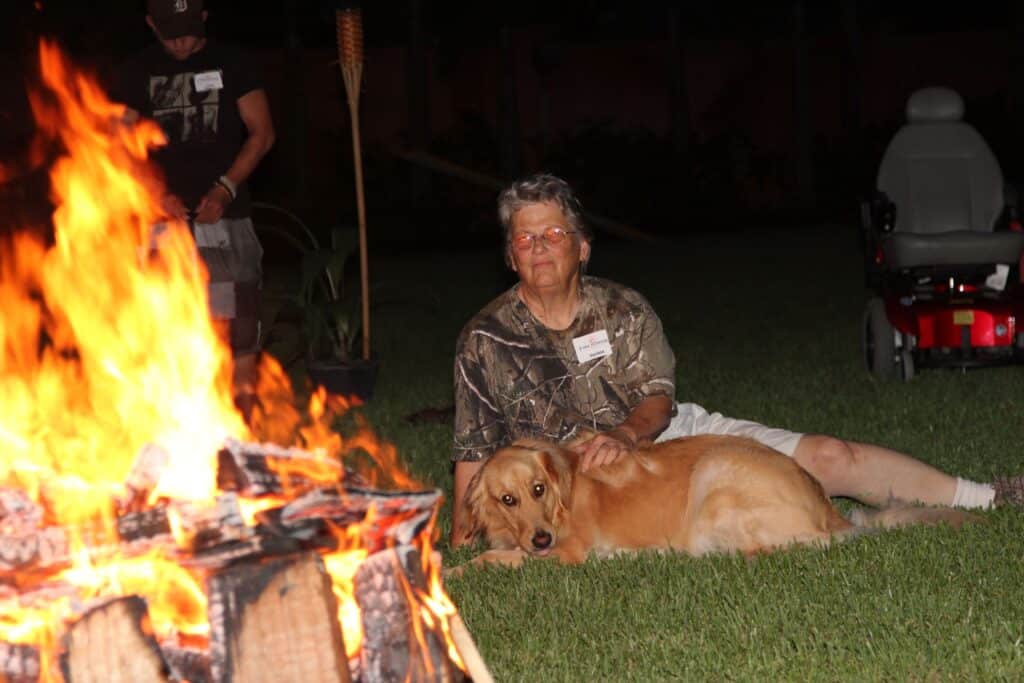 Jackie surprised the entire room when she rose from her wheelchair to break her board with her bare hand. She went on to bend steel rebar with a partner and break an arrow in the soft part of her throat. After witnessing all of this, it still left us awestruck when later that evening, as her friend held back her service dog, Jackie rose from her wheelchair once again and walked across the bed of red-hot coals.
One step off the end of the fire, Jackie's degenerative muscle disease, Myasthenia Gravis, caused her to collapse. With the aid of her dog Wabi, Jackie climbed up into her wheelchair and endured leg spasms for the next 10 minutes. At first, the group thought Jackie fell because she was burned, not knowing about her muscle condition. Jackie's firewalk was a success; her feet were actually fine. It was an honor to watch Jackie's amazing firewalk feat. At the end of the evening a group of young men, one-by-one, thanked Jackie for being such an inspiration.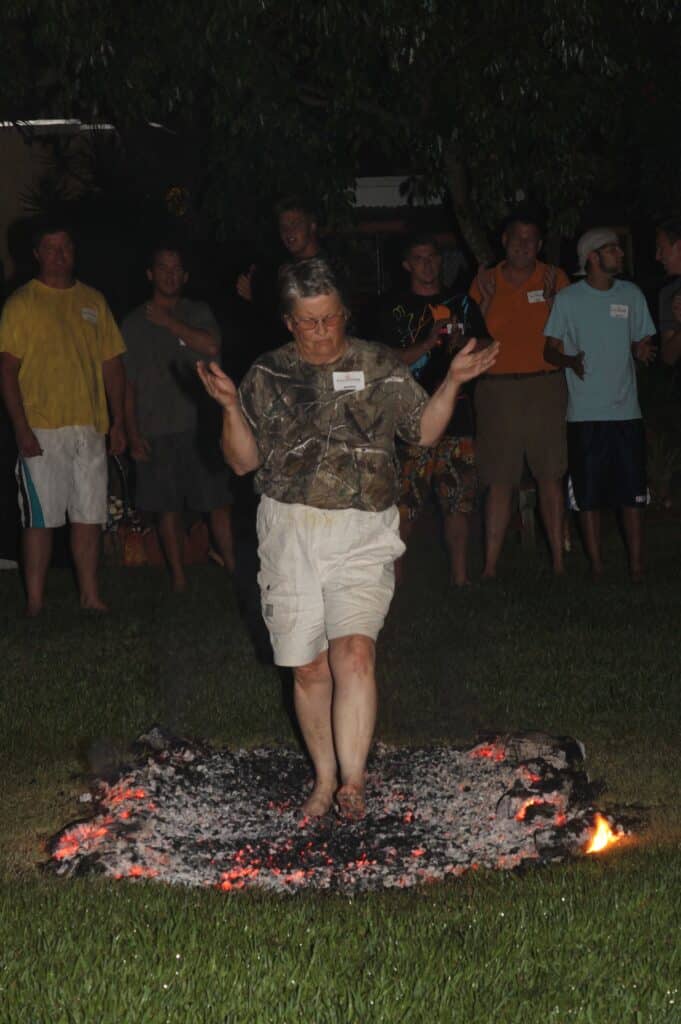 So yes, we are capable of doing more than we think is possible. And if we're lucky, we'll have the chance to meet someone like Jackie who inspires us because she is a rare breed who knows EXACTLY what she is capable of, and refuses to be limited by others.
3. Face Fear – A Major Factor That Paralyzes Companies and Individuals. We have been fortunate to work with clients ranging from small organizations to Fortune 50 companies, with hundreds of leaders from various cultures, spanning many parts of the world.
In customizing team building activities designed to have participants experience change and fear, we provide a "Challenge By Choice" for each person to decide if they are willing to face challenges by shifting their perspective on how they can survive and thrive by participating in activities that appear impossible, or too simple, or ridiculous! The activities we customize represent all the things we have not done because we are frightened or we think might be difficult or impossible. Or we are concerned what others might think about us if we are unable to complete the task at hand.
Once a participant does the thing they thought was difficult and discover it is quite simple – even fun – that's when the positive shift starts happening. We have seen it thousands of times. Participants realize that fear, past thinking and beliefs have prevented them from taking action to attain the very things they want in their lives!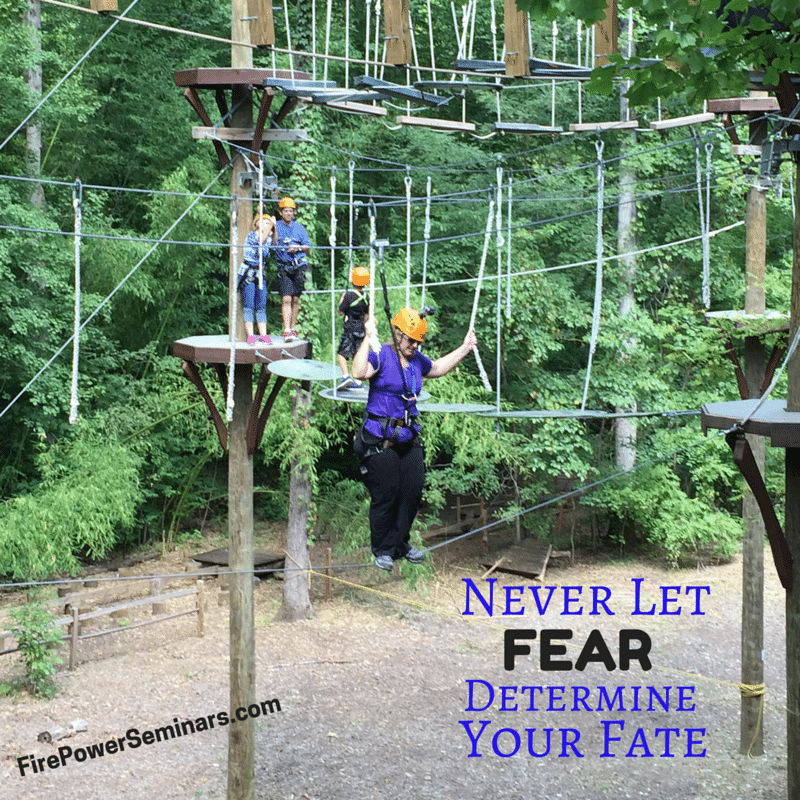 4. Become Aware … It's The Little Things That Matter. We have seen firsthand how liberating it is for participants to become aware of patterns that no longer serve them. Awareness is the first step!
By becoming aware of limiting patterns, one is free to make a choice on how to move forward, both professionally and personally. This is bound to happen at our breakthrough board breaking events, where participants bust through self-defeating patterns and limiting beliefs as they move towards empowering ones; e.g. shifting from self-doubt to absolute confidence! And you don't have to be a karate master to do it!
Another great example of this often shows up in our team building events when it comes to asking for help. Often the perception is that to be a strong leader or individual, you have to do it on your own. In reality, one becomes a much stronger leader by surrounding oneself with individuals that are willing to help you reach the goal, vision or mission. There is an African proverb that says it all: "If you want to go fast, go alone. If you want to go far, go together". Together, a team can accomplish much more!
5. Engaging The Mind Is Not Enough To Break Down Barriers And Create Lasting Change. Our programs and events are designed to be engaging and great fun. We often experience laughter and sometimes even a few tears. Thinking a lot, but are you aware that the most successful way to shift behavior is to be engaged both mentally and physically?
The fancy name for this is embodied cognition. The mind and body think differently, and when you engage both to have a physical experience and to break a mental block, that's when breakthroughs begin to happen!
We have been doing this since the inception of our business, and recently realized that "embodied cognition" is something we have been doing naturally to create lasting change – allowing participants to mentally and physically embrace who they are and where they're at, as they recognize what needs to be done to attain successful-end results at work and home! You can harness your personal power by doing something that appears impossible!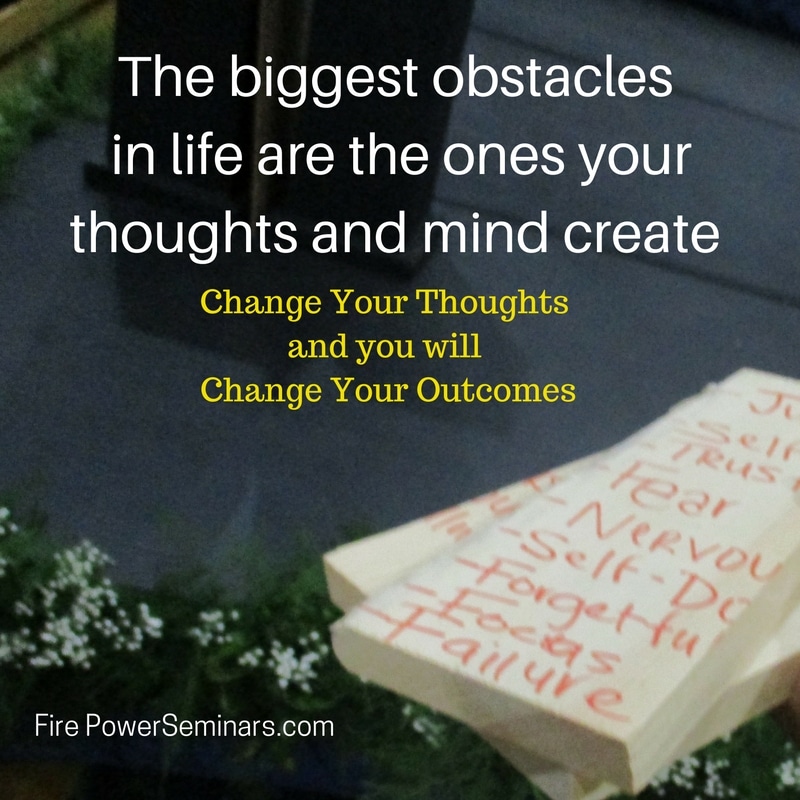 Stay tuned for Part 2 of What We've Learned in 10 Years of Business!
Would you like to learn more about how Fire Power Seminars might serve your organization? Click here to connect with us today!
Thank you, Carlos Aristizabal for the wonderful photography (credit for first 3 photos at top)!