"Coming together is a beginning. Keeping together is progress. Working together is success." ~ Henry Ford
Smart companies know that corporate retreats and team building activities and seminars are critical for employee morale, productivity, and enhancement of group dynamics. Teams all have an ebb and flow; times of high creativity and occasional cycles of feeling stagnated. Offering opportunities throughout the year for employee personal and professional empowerment out of the office can make your business stronger and give you insight into current team flow.
Leaders that are successful are able to rally their team to a common vision and goal. While the leadership needs to have effective communication skills and be able to inspire, the execution of the vision happens at the team level. Think about your team critically. What kind of staff development does your business have in place? What does your team need right now? How can you infuse team spirit into everyday business?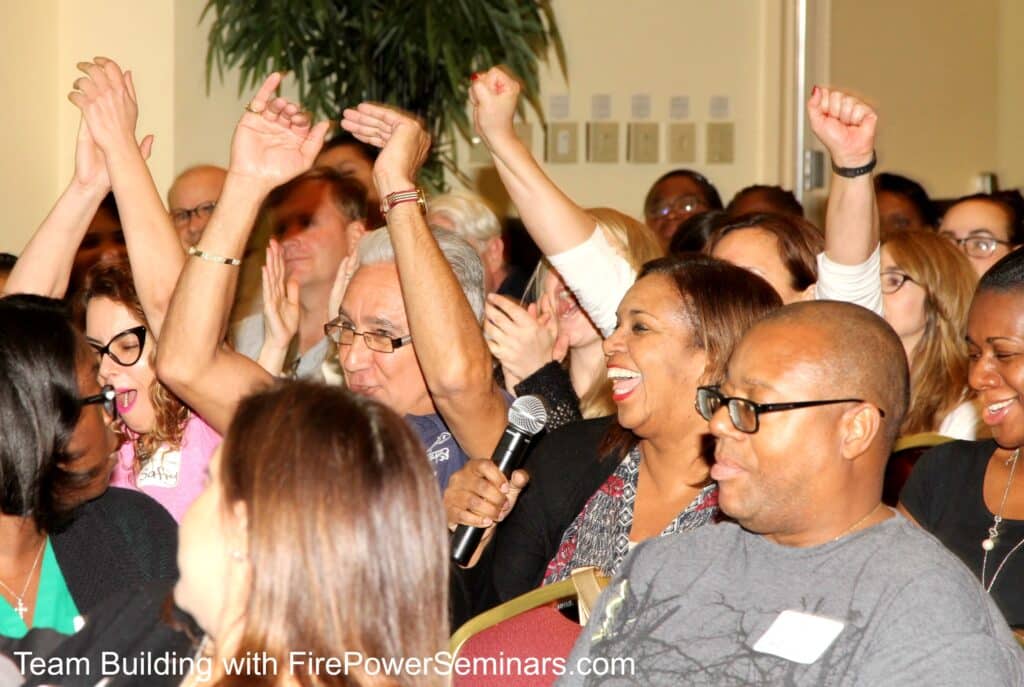 It's true that there is no "I" in "team", but empowered individuals bring that confidence to the team. Effective team building activities can combine benefits for the individual and the team. Our board breaking events begin with the employee and end with a renewed enthusiasm and positivity – a powerful trickle down theory.
Our board-breaking seminars begin with the participants writing their limiting beliefs and obstacles on a board. They are then each invited forward to step up and break through their boards. In one decisive session, the physical action of breaking the board and "breaking" the obstacles is achieved. The positive action and success brings a release of negative emotions and starts to shift thought patterns that have been holding them back.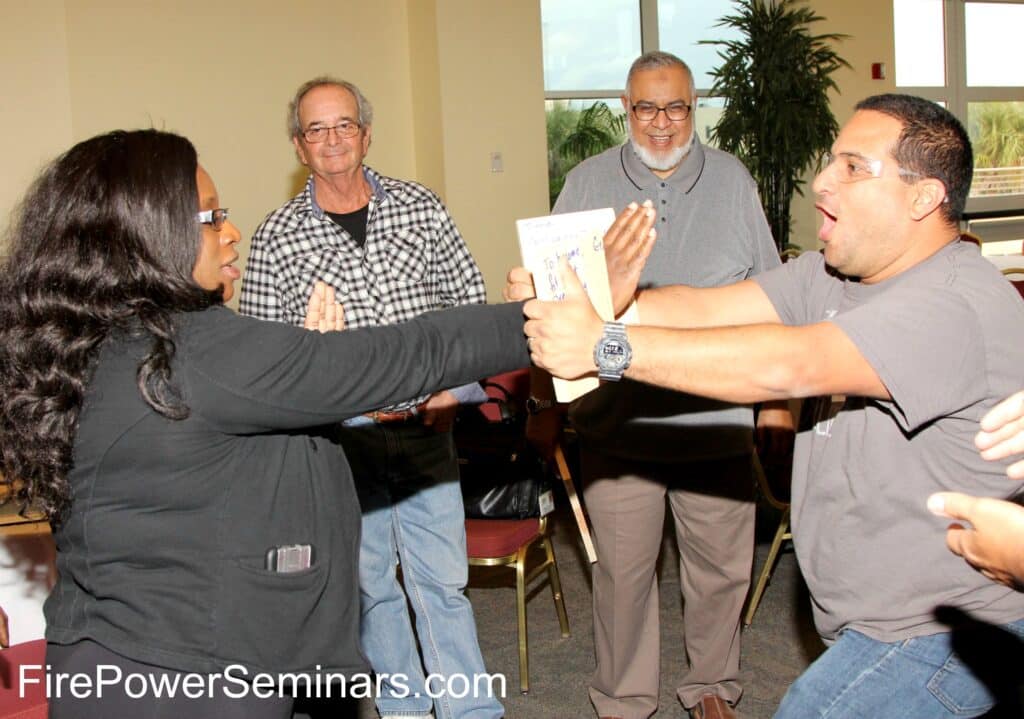 "The strength of the team is each individual member. The strength of each member is the team." ~ Phil Jackson
From individual empowerment to team building, we have had the honor and pleasure of developing and personalizing numerous team building activities for executive and staff development. The most effective activities are those that are targeted to what your team needs. The rewards are the smiles, tears, and cheers that come out of each activity.
Friendly competition can actually fuel team building. Our Building Bikes, Empowering Children gets the competitive juices flowing as participants assemble bikes as teams, believing they'll be competing in a race against each other. In reality, each team is assembling a bike for a child within the community. For many of these children, this will be there first bike! Teams work to put together a bike in race-ready condition within a given time frame, not knowing that is really for the children. We love the inspiration and motivation that comes out of this potent team building event!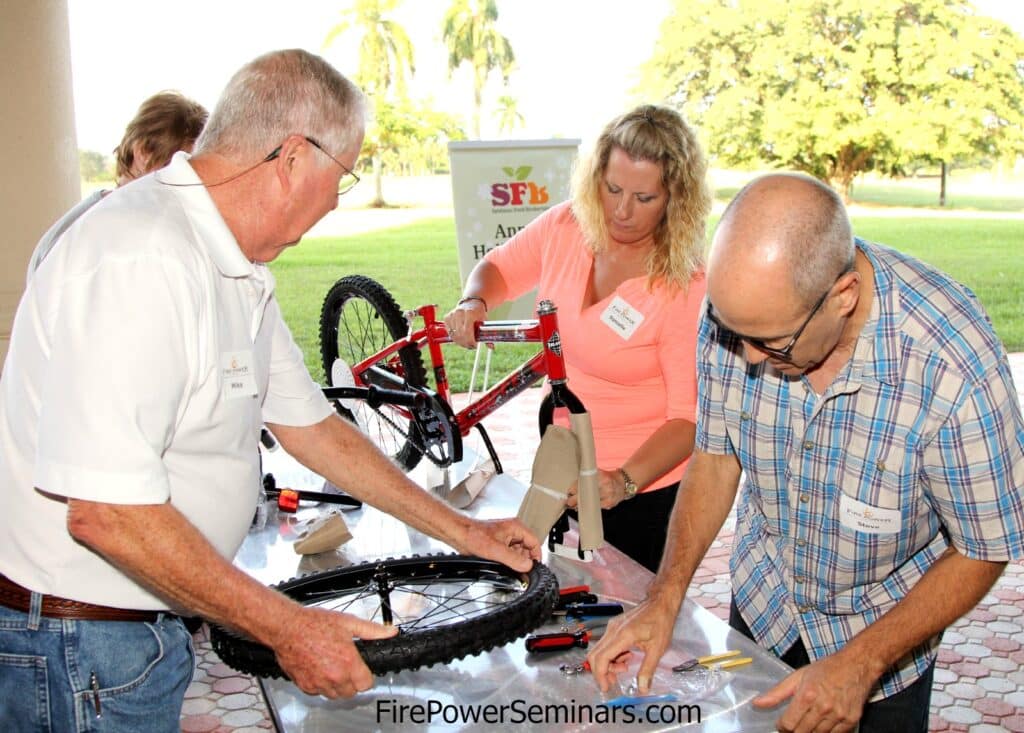 In a nutshell, your organization needs team building and we are ready to customize a seminar just for your team. Think of the benefits of directed team building:
Successful Communication: Many of the team building activities are centered around tasks that require communication. Clarity, focus, and the ability to get the message across to the team are needed for success.
Morale Boost: Positive employee morale can only benefit your business. Team building seminars that allow employees to get out of the office environment and interact on different levels not only boosts morale, but brings additional benefits. "The Gallup Organization estimated that there are 22 million actively disengaged employees costing the economy as much as $350 billion dollars per year in lost productivity including absenteeism, illness and other low morale issues." (zenefits.com)
Renewed Collaboration and Recognition: Team building events are designed to open the lines of communication, test the boundaries of trust on the team, and require them to think out of the box to complete the tasks.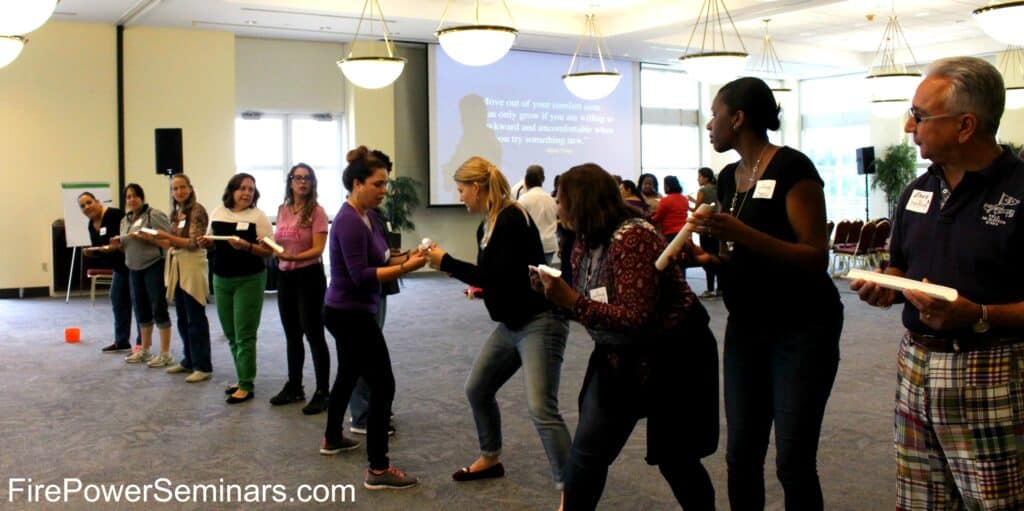 Executive and staff retreats, team building events, empowerment seminars are all vital to the health and wealth of your business. How can we help you get there? To learn more about a seminar customized to fit your specific needs, contact Karen at 954.232.4486 or email her at Karen@FirePowerSeminars.com
"Thanks very much for making our staff feel better about themselves. Today was another great day that staff enjoyed. As I said today I am happy that I made the decision to work with you." Imran Ali, The Children's Trust, Interim President and CEO