There is a distinct difference between leadership and management, both in personality and function. The most successful people are able to balance both and most leaders and managers have crossover traits. 
Leadership is about vision, innovation, and the future. There has to be space from the day-to-day activities of the business, so that leaders can see the big picture. Powerful leaders weave a vision and mission that management and the team will eventually implement. Communication from leadership is inspirational and enables the team to see the vision and how things may need to change for the vision to be executed in the business. Leaders define goals and ensure that the people around them will achieve the goals.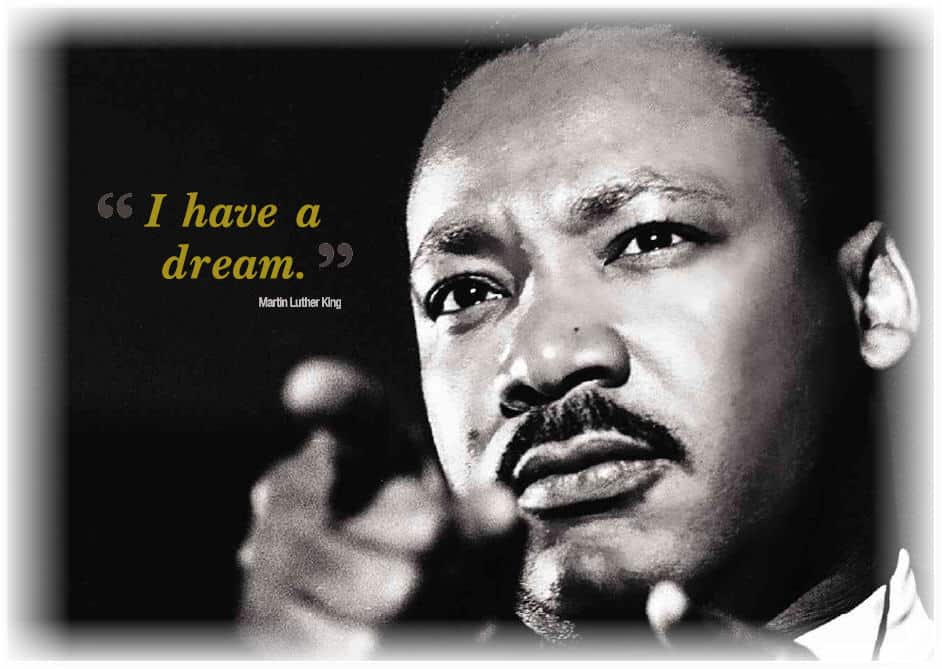 Martin Luther King Jr. is a primary example of a leader that shared his vision, "I have a dream". He inspired sit-ins and marches, an enormous movement that is still impacting our world decades later. As a potent leader, he encouraged people to buy into his vision, to think differently, and, importantly, to act differently. The people who joined with his vision, the management team, were the ones who set up the marches, organized people, and ensured that Martin Luther King Jr.'s message was able to reach the masses.
Management is about implementation, structure, and administration. Effective managers are able to take the vision of leadership and apply the how and when. They watch the bottom line and the production of the team. Communication is focused on the quality and standards of the process and plan, as well as the day-to-day conduction of the process and plan. Managers oversee all of the processes that are vital to the vision, like customer service, quality control, scheduling, budget, and safety.
Business in the 21st century has changed since the hard and fast definitions of leadership and management were originally defined. Employees are no longer considered to be automatons that should just follow orders handed down by leadership and management. Smart businesses are looking to nurture employees and develop their core skills for great effectiveness on the team. Many businesses today are required to have a capable leadership and management team that blend both definitions.
A great example of the results of blending techniques is how Tim Cook took over as CEO of Apple when Steve Jobs died. Steve Jobs was all vision. He had an uncanny ability to see the future and head straight for it, and there is no doubt that his leadership style was autocratic. It was his way or the highway. Tim Cook brought a bit more democracy to his leadership. In fact many articles talking about him discuss his "managerial" style rather than his leadership style. Of course, he has led Apple to amazing heights as a business, all with a blend of bottom line and an eye on the horizon.
Google as well has established a rewarding model for inspiring their team and being highly productive. One of their principles is Google Time: employees can spend 20% of their time working on anything they choose. This allows smart, creative people to chase their ideas and it is out of this creative space that Gmail was developed. Interesting note, this is one of the principles that Tim Cook implemented at Apple as well.
Inspiring leadership, thought leadership, effective and encouraging management, and consideration for the individual development needs of the team are vital business principles making their way into common practice. Empowerment happens from the bottom up with the facilitation of great leaders and managers. Google brings us another example of these ideas on how they approach an intern's first day.
Here is a business where interns are talking about cutting edge and working on projects that are meaningful to them. Google not only reinforces this in their interns and employees; they encourage them to not be afraid to succeed.
Employees that are encouraged to push their personal and professional limits are an asset to the team and the vision of the company. So, how do you get there? How do you cultivate a team that is confident and not afraid to succeed? How are you building excellence? What are you doing to ensure the integrity of your team now and twelve months from now?
This is where Fire Power Seminars comes in. Our expertise is Empowerment Breakthrough Programs to overcome fear and doubt and we are able to work with small businesses in Corporate Retreat settings and at national conferences, while leading several hundred people in board breaking and arrow breaking.
We have two completely transformational seminars for individuals and businesses:
Breaking Barriers — our board breaking seminar. Participants break through barriers by breaking a board with their bare hand; engaging the mind and body, the mental and physical, in what is called Embodied Cognition.
Step Into Your Power — our arrow breaking seminar. Participants actually step into their power and toward a defined goal by breaking an arrow with soft part of their throat. They are making a decision to take one determined step towards their goal. And the reactions? See for yourself how participants at the Office Depot Foundation Women's Symposium 2017 felt about Stepping into Their Power!
Fire Power Seminars welcomes the opportunity to work with you and your team, to leverage employee engagement to attain more productivity and greater results. Our powerful seminars directly engage every participant, helps them recognize limiting mindsets, brings challenges to the forefront, and guides them to creative alternatives. From team building, communication and leadership training to executive and staff retreats and breakthrough coaching, Fire Power Seminars' bold approach to creating and delivering customized programs is based on our ability to understand individuals' and organizations' unique challenges.  Contact us to discuss how you can enhance your vision, mission, AND implementation!
CVS Health
"Thanks so much for helping to make our event a success! The feedback has been so positive! The board breaking and the arrow breaking gave the participants an experience they will remember and was exactly what we needed to allow them to have the insights we wanted them to have. I know it will be memorable for them and will help make our leaders event better!  

Thank you very much for being flexible and creative! I especially love the creativity you added to the event! The video was perfect and the introduction to each of the events really pulled our theme together. It was a pleasure working with you and your team. Hoping to get to do it again in the future!

Thanks again for your help in making our event a success!"
Kaplan University
"The group from Fire Power Seminars did a great job both teaching and motivating the Graduate Admissions and Concord Law School advisors during the "board-breaking" exercise. The folks at Fire Power really did their homework; the preparation call really helped to make sure that we were all on the same proverbial page. During and after the event, the energy level was noticeably high; participants talked for weeks about their experience and many now proudly display their broken boards at their desks. I'd recommend Fire Power's board-breaking exercise to team leaders looking to provide a change of pace in terms of sales and developmental training."  
Personal Development Community Organization
"Once again you have facilitated a great success. It was simply amazing to see everyone the next morning! The whole group had shifted into a much deeper level of team. WOW! You could feel it; you could see it and you could hear it. What a tremendous success! Thank you for all that you do to make these groups so very successful."
Bill Hansen Luxury Catering and Event Production
"Connie and Karen are the consummate professionals who know their job and are able to interact and draw out the best in team members. I highly recommend that any firm wishing for an interactive team building experience talk to these ladies before hiring another firm – THEY ROCK!"