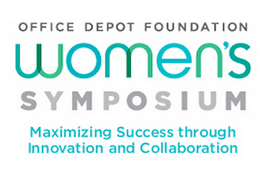 Get Inspired
Feel Rejuvenated
Learn, Share and Network… Maximize YOUR Success!
The inaugural Office Depot Foundation Women's Symposium is set for October 7, 2014. Throughout this highly engaging day, you'll come together with other successful women in an atmosphere inspired by innovation and collaboration. You'll gain a new understanding and appreciation of how you can be even more successful – no matter where you might be in the course of your career. Join Karen Pfeffer, who will be a facilitator at this event.
Visit Women's Symposium for registration and more details.