I facilitated yesterday's FWBC Business Women ROCK luncheon, held at Capital Grille in Boca Raton, and great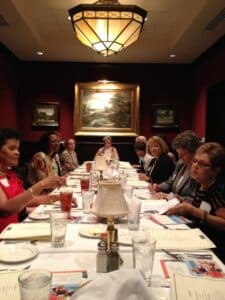 information was shared by those in attendance!
Here are some useful tips that came out of the topic:
"Too many things to do… Not enough time to do it"
"No" is a complete sentence
Work ON your business, instead of IN your business
What you focus on expands
Set your intention – Intention is everything
Focus on your strengths instead of weaknesses
Find strategic partners to complete tasks you do not enjoy
Ask yourself if you are having fun
Take care of yourself first so you can care for others at greater levels
Take time to do things that make you feel good
Keep a daily planner prioritizing action items (use a system that works for you)
Be flexible
Let go of business relationships that no longer work for you
Decide what you DO want
Take action and apply what you know
Be fully engaged
Notice your patterns and make minor shifts to enhance your results
Stretch… Go outside of your comfort zone
Keep a success journal and review it
Notice, reflect and make adjustments
Do things that work for YOU
Do you have any great tips for what works for you?
Leave a comment below or on the Fire Power Seminars facebook page and be sure to join the FWBC Business Women ROCK luncheon next month on June 27, 2013.