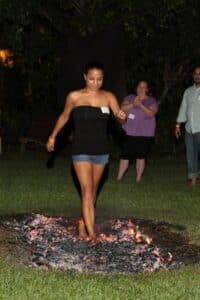 Life is short and demands are long. It's easy to lose sight of goals and strengths, and feel overcome by fear.
This seminar is for anyone who wants more out of life. Fire Power Seminars will provide just the tools you need to change your mindset and break through any limitations and fear. In an evening of fun and excitement, you'll realize limitless possibilities and leave with a feeling of accomplishment and confidence you could have only imagined!
No matter where you are in life, seize this opportunity to experience your full potential. And, all activities are strictly voluntary. You don't have to walk, but you'll want to!
Are you ready? It's time to fear less and live more! Register below to join us Saturday, September 28th. You will learn how to triumph over fear and grow in ways never imagined!
Register Now – Seating is limited:
Empowerment Through Understanding and Mastery of Fear
An inspiring evening on achieving your full potential
Saturday, September 28, 2013
5:30pm-9:30pm (registration 5:00pm)
Davie, FL
(15 minutes West of Fort Lauderdale; address provided at time of confirmation)
Empowerment Firewalk
$125 in advance / $150 event day
$100 "Bring a Friend"
$75 Teens and Past Participants
Facilitated by Connie Phelan and Karen E. Pfeffer
RSVP & Register Now or call 954.232.4486
Fire Walk Investment Options