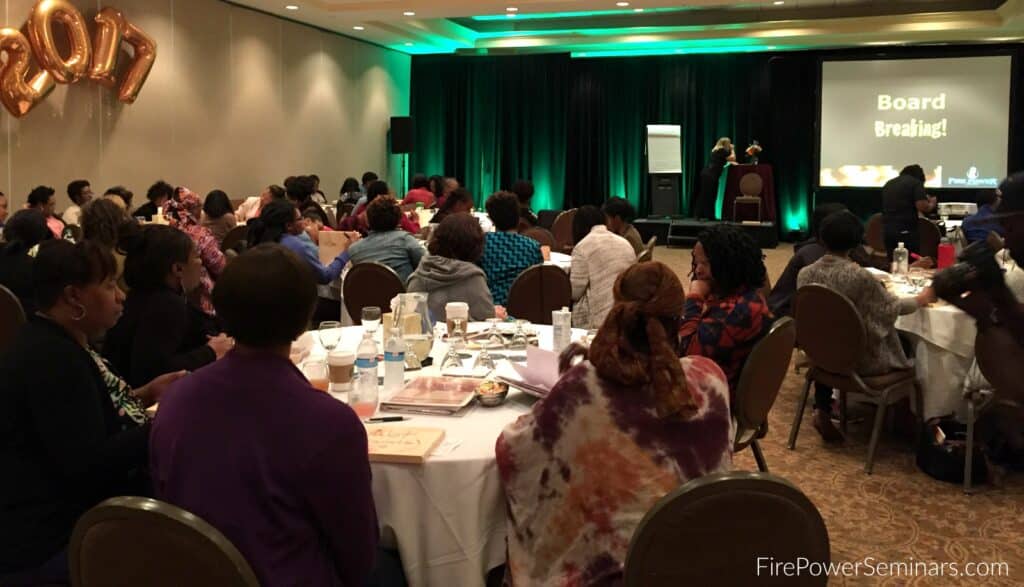 Our New Year had an amazing start with all of the participants at the Happy Black Woman Mindset Retreat in Tampa in mid-January. Fire Power Seminars was honored to present our Board Breaking Empowerment Seminar to faciliate breaking through barriers to step powerfully into 2017!
Rosetta Thurman is the Founder of Happy Black Woman and designs events to help women transform their mindsets, uplevel their sense of self-worth and strengthen their faith about what's possible in their lives. Since our Board Breaking Seminar is all about taking powerful action to break through identified challenges, it was a great match and great weekend. Participants write their obstacles on one side of their boards and then physically break through their boards and obstacles!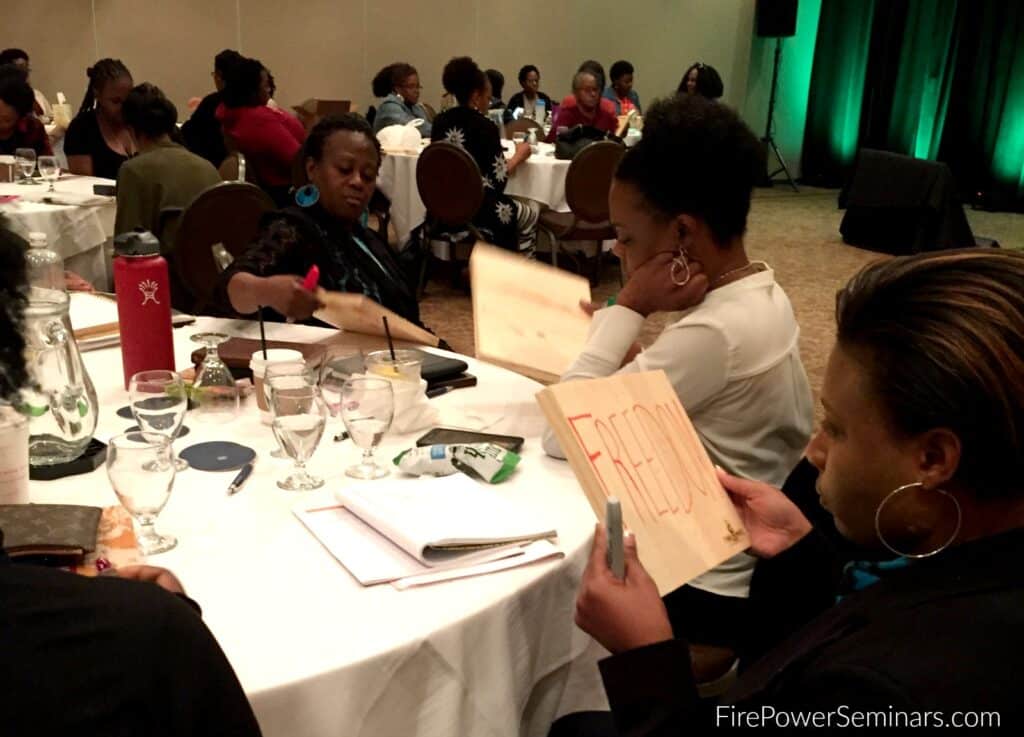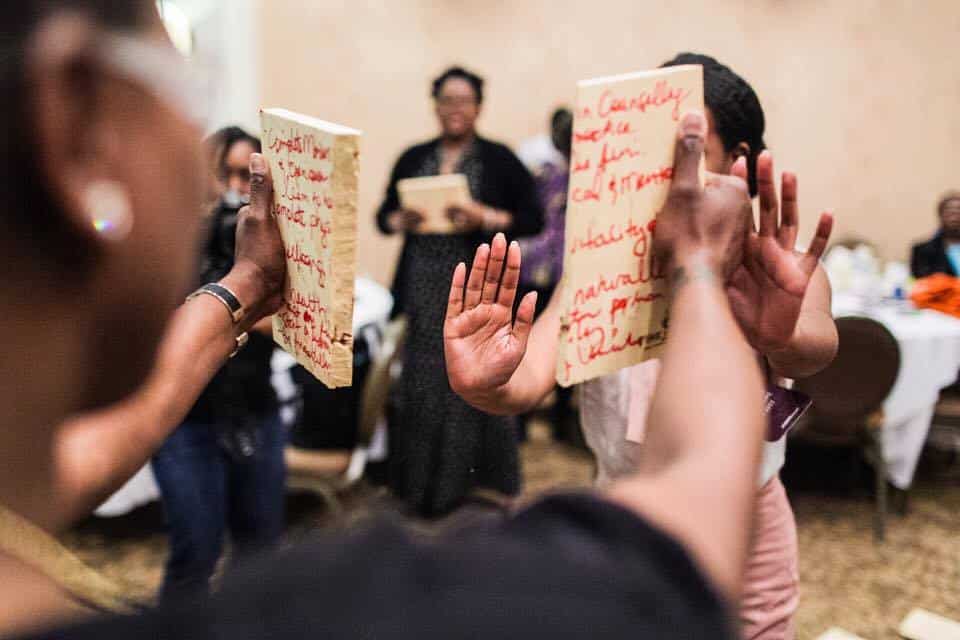 The physical act of breaking the boards, breaking through the obstacles, cleared the way for participants to manifest their vision for 2017. The excitement at the event was palpable. There is no doubt in our minds that these women are going to manifest amazing things this year!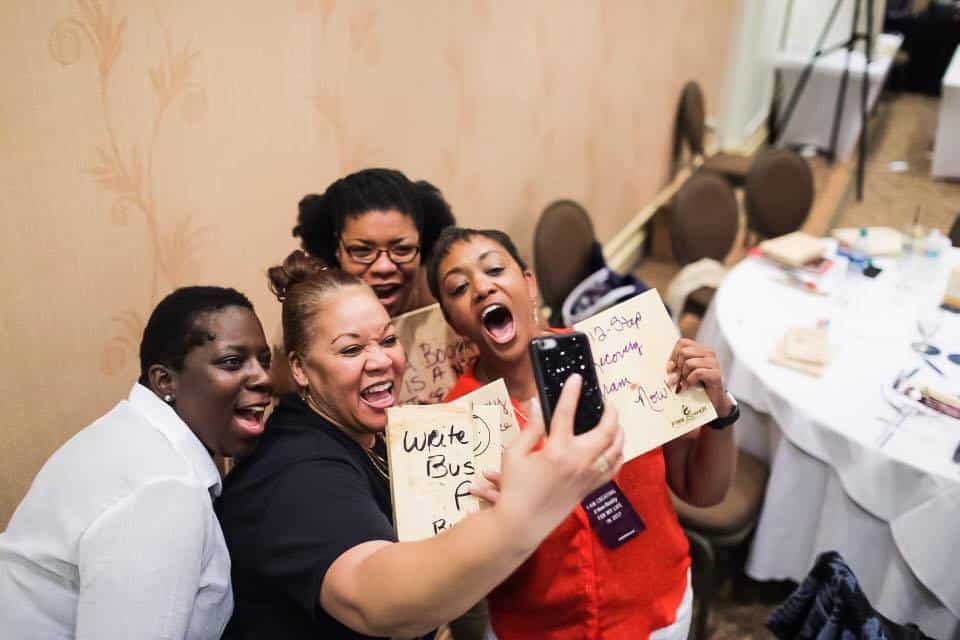 The amount of change that can occur in that moment of a hand moving forward to break the board is always amazing to us as we facilitate these events. The physical act of breaking the board releases so many things that have been holding participants back mentally, emotionally, and physically. Participants are able to shift to a mindset that knows anything is possible.
Rosetta had some great feedback for us from her and the participants at the Happy Black Woman Retreat:
This was a great way to kick off 2017.

Board breaking was an experience – a capstone for all the work done at the mindset retreat. Breaking through barriers to achieve BIG goals!

There is something magical that happens when there is a physical representation of breaking through. And one can do it in so many different ways – sky diving, fire walking and board breaking. I decided to bring the board breaking experience to the participants for this weekend because there are so many barriers that I knew, needed to be broken through, so the participants could manifest their vision for this year.

I was very pleased to bring Connie and Karen, expert level facilitators from Fire Power Seminars who have worked with thousands of people. They led us through the process of breaking barriers – going from things that participants thought were impossible, to understanding that anything is possible.  And not just getting it at an intellectual level, but getting it in their body! The evening of board breaking was about letting the whole body know that we are not playing with 2017. That we are no longer going to be bound by any barriers that have held us back in the past. We let our minds know, and through board breaking, we let our bodies get the message too.

Connie and Karen got us fired up!

~ Rosetta Thurman – Founder, Happy Black Woman
It was a great honor to work with women that were so enthusiastic and positive about achieving their goals! Rosetta and Happy Black Woman lead events throughout the country, check their website to see if they are coming to your area.
Don't miss the Office Depot Foundation Women's Symposium where Karen will be presenting "Step into Your Power"! Register to attend the Symposium, February 17-18, 2017 in West Palm Beach, Florida.
What are your plans for 2017? Board-breaking events and empowerment seminars are available for groups and companies. Take your team to the next level and join us in facilitating shifts in personal beliefs and mindsets. Yes, you can! For more information about empowerment, team building and transformation, contact Karen at 954.232.4486 or Karen@FirePowerSeminars.com