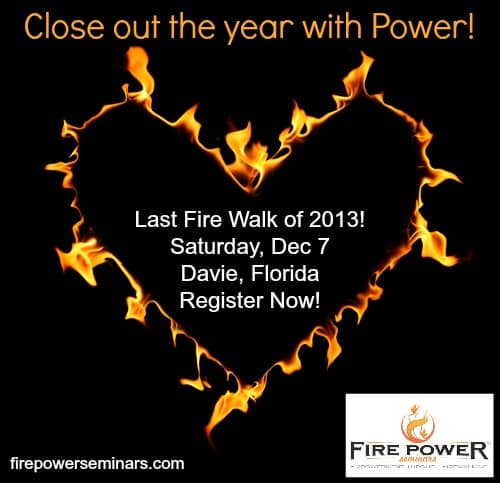 Close out the year with POWER!
Every coach knows it's all about momentum. Whether it's the end of the period, the end of the game or the end of the season… if you make that final score before the buzzer, when you come back on the field you're in a position of strength.
Start 2014 with momentum… by finishing 2013 with one final victory.
Register below – Seating is limited
Saturday, December 7, 2013 5:30pm-9:30pm (registration 5:00pm)
Davie, FL (15 minutes West of Fort Lauderdale; address provided at time of confirmation)
Empowerment Firewalk
$125 in advance / $150 event day
$100 "Bring a Friend"
$100 Past Participants
$75 Teens
Facilitated by Connie Phelan and Karen E. Pfeffer
RSVP & Register Now or call 954.232.4486