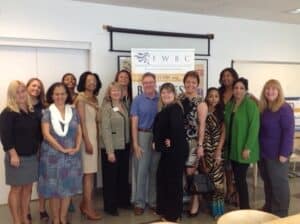 I had a wonderful time facilitating the Florida Women's Business Center December Business Women ROCK breakfast at IKEA. In addition to having Governor Rick Scott stop by for a visit, the attendees shared the following useful tips for deepening client relationships:
6 Tips for Deepening Client Relationships
1. Personal Attention Matters: Communicate effectively with your clients by using their preferred way of communicating… ask them: Email, text, phone, social media, or a combination? Be available and accessible on their terms.
2. Listen, Pay attention, and Focus on Them: Give 100% of your attention to the person you are connecting with – stay away from multitasking. The person you are communicating with will know if you are distracted, even when you are communicating over the phone. Active listening is appreciated and very rare! By focusing on your clients and what matters to them, their trust and confidence in you will grow.
3. Provide Added Value: Give your clients more than they expect, and surprise them with articles and information you think might be useful to them. Additionally, you and/or your client can become a news source for journalists on a deadline needing a source through HelpAReporter.com – listings looking for experts. Bottom line is that people don't care how much you know until they know how much you care. Go above and beyond client expectations!
4. Visit Your Clients in Their Environment and Get Out of Yours: By visiting clients at their place of business you will gain insights as to how they run their business, who their customers are and what matters most to them. Observe and notice what matters to your client; family, sports, organizations, etc. You will also be letting them know that they are important to you.
5. Follow-Up, Follow-Up, Follow-Up: This is so important that it is worth repeating! The gold is in the follow-up. Business people move forward on their projects based on their needs, not yours. Make sure you are tuned in to what your client's needs are and the time frame for those needs.
6. Continually Build Upon Your Relationships: To ensure ongoing success, it is critical that you continue to build relationships with those you enjoy working with (if you are not enjoying working with a client, let them go and make room for new ones). How well do you know your clients? A great resource is Harvey MacKay's "Swimming with the Sharks", which contains a 66-Question Customer Profile. The more you know about your clients, the less likely they will leave you. By focusing on relationships instead of transactions, you will find that sharing information that is meaningful to your clients will yield greater results than selling products and services.
In summary, your clients are your most important asset. Satisfied customers that consider you a strategic partner that they know and trust is a great source of referrals and gives you the revenue needed to continually move your business forward. Deepen your client relationships by giving of your passion, time and expertise. You will be pleasantly surprised with the outcome!
Thanks for reading, and feel free to comment below.
In Gratitude,
Karen