Set Yourself Up for Success in 2022
90 Minute Virtual Workshop on January 23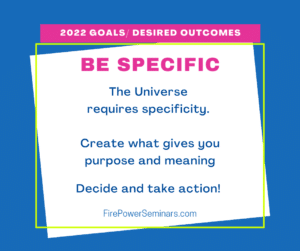 Join Karen Pfeffer as she facilitates a 90 min workshop, where you will learn the components of a well formed outcome. You'll have the opportunity to apply what you learn and create your road map for success in achieving the #1 goal you desire this year.
When: Sunday, January 23, 2022
Time: 2:00pm – 3:30pm ET
Where: Virtual via Zoom (link will be provided once registered)
Investment: $50 (Venmo: @Karen-Pfeffer-7 or Zelle: Connie@FirePowerSeminars.com)
Registration: Email Karen at Karen@FirePowerSeminars.com to reserve your space. Karen will contact you to let you know your participation is secured. Let her know what your top goal is for 2022 in your email. She looks forward to having you in the workshop, assisting you to fulfill your desired outcome! (You can also send her a text at 954.232.4486.)
Ignite the Fire Within!
S. Florida Empowerment Firewalk Seminar
Date TBD Due to Coronavirus Pandemic
The next Fire Power Seminars South Florida Empowerment Firewalk Seminar is on hold due to Covid-19.
This event provides several activities to get you prepared for the firewalk, and everything is voluntary. If you are ready to give your self-limitations over to the fire and step into your power, this seminar is for you! Only $150.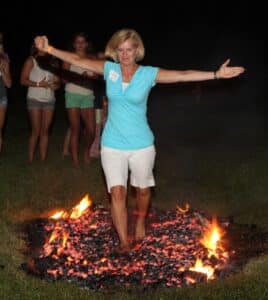 Location: TBD
Treat yourself to a fun evening of accomplishment where you will break through barriers and limitless possibilities.